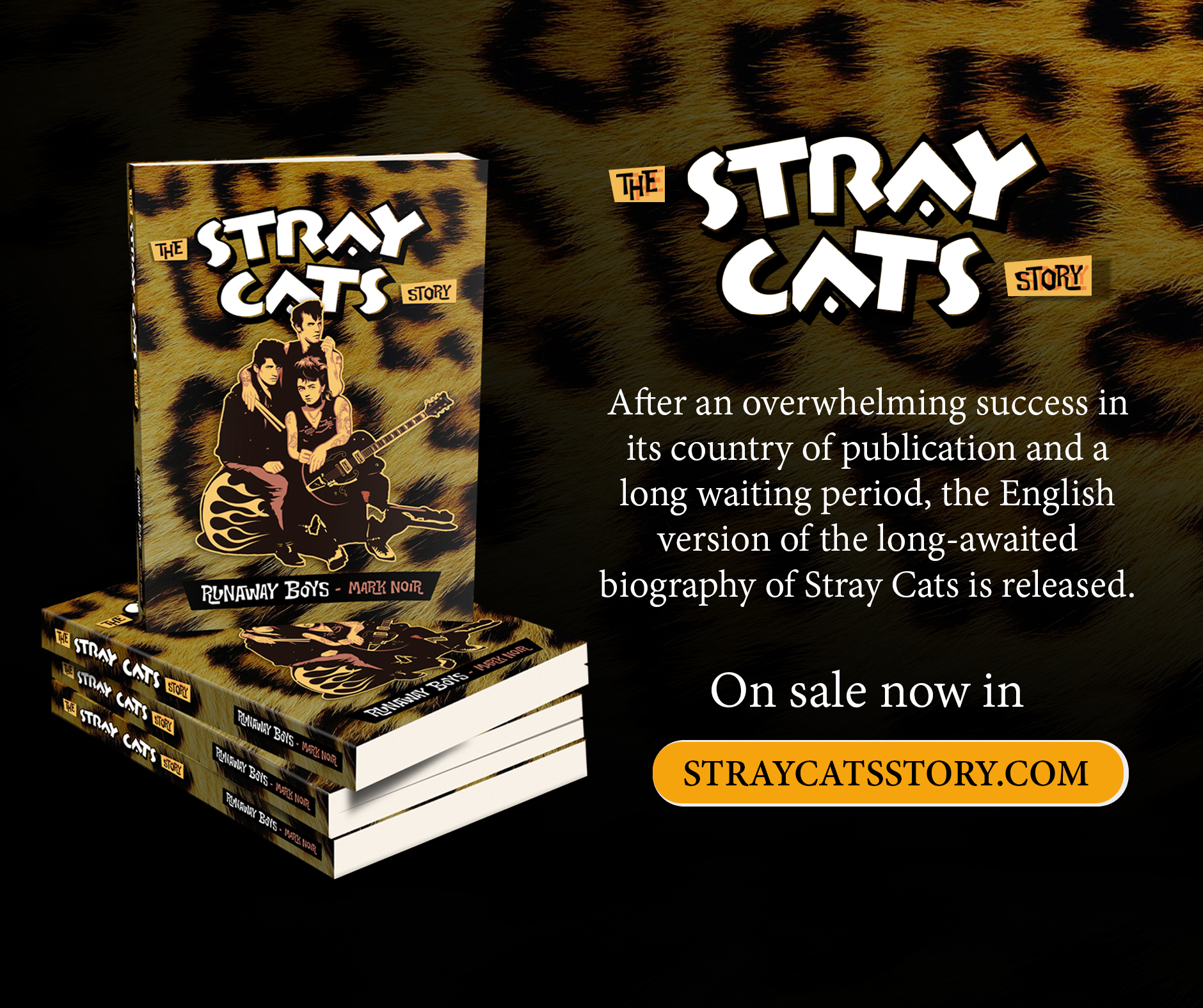 Brian Robert Setzer, James Robert McDonnell and Leon Drucker were three neighbors of Massapequa, a small town in the county of Nassau, located  in the state of New York, who shared a disproportionate fondness for music playing and for the pioneer artists of the  r & r. They started an incredible adventure that will forever change their lives and that of many fans.
In June of 1980, after gaining a reputation in the local scene, they flied to London, attracted by the explosion of the rockabilly genre , with the intention of spending the summer and trying some luck. Surprisingly, a few weeks later they appeared on the cover of the influential New Musical Express magazine and some members of the most famous bands (The Clash, The Rolling Stones, Sex Pistols, The Kinks) come to see them and were shocked by their music, their aesthetics and its explosives live concerts.
WHO OR WHO WAS BEHIND THIS SUCCESSFUL SUCCESS?
After conquering the European and Japanese market, they knocked out another heavyweight of the record industry, the American, getting placed  on the sales charts behind the unbeatable Thriller  by Michael Jackson, something unthinkable for a trio that plays rockabilly .
After almost forty years of the creation of the band their first biography is written. This is the fascinating story of Stray Cats, their first steps, their influences, their records, their mythical performances, their symbols, their instruments, their technique, their conflicts and relationships, It´s the story of an unexpected split and about an era where punk embers are still hot, where subculture youth rules in London´s streets, where the crazy Japanese fans assert their reputation and where Hell's Angels escort them at their triumphal entry into Paris. This is the story of a track that still remains indelible … THE TRACK OF THE CAT.
WHAT THEY CALL ROCK AND ROLL
FIRST STEPS ON LONG ISLAND
PART II New York, New York
SLADE´S FASHION DESIGNER AND THE ROCKATS AMERICAN ADVENTURE
THE PURISTS, THE PRESS AND A PLAN TO CONQUER AMERICA
AN ISLAND PARADISE, A SKILFULL CHEF AND A FENDER AMPLIFIER
THE EMPIRE OF THE RISING SUN
TV DEBUT IN THE UNITED STATES
THE ROLLING STONES: A DREAM COMES TRUE
PATHS TO GLORY: BUILT FOR SPEED
WILLIE NELSON 4th JULY: AN APPROACH TO COUNTRY MUSIC
WILLIE NELSON 4th JULY: APPROACHING COUNTRY
A PERFECT ROCKABILLY ALBUM
THE OLD GUARD OF THE R & R
SOME CATS PROWL THROUGH HOLLYWOOD
LET'S GO FASTER. GOODBYE TO THE MULTINATIONALS
FISH & CHIPS, ELVIS ON MARS AND FRANK SINATRAS´S GUITAR
THE ORIGIN OF AN ORCHESTRA
THE FAREWELL TOUR IN AUSTRALIA AND NEW ZEALAND