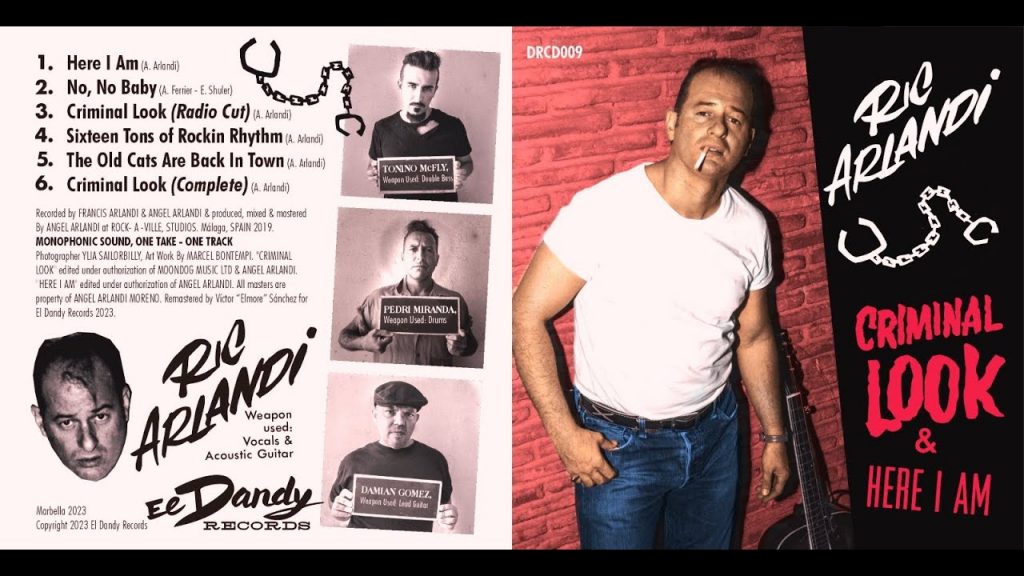 What better introduction to Ric Arlandi than this magnificent article entitled "The King of Sun Coast Rockabilly" written by Jota Fernandez.
"I am one of those who think that the first thing a musician has to have is good taste and criteria; and I can attest that when I met my friend Angel I had no doubt about it. It was the 90's in Beatas street .. and a generation of Rockers were becoming men between conversations about Gene Vincent, Crazy Cavan or the usual chats about the Stray Cats.
A few of us realised that this guy had a voice and after playing in several local bands and participating in numerous projects he began to forge what is his current musical career as Ric Arlandi.
With "Ric and The Rocks" he paid tribute to my beloved Burnette brothers and with "Ric and The Ducks" he gave birth to two of the best Sg's in my 45's collection ("Don't fight" or "Train again blues" are coming with me to a desert island).
But Ric Arlandi is already at that point where I believe that creative musical maturity is reached and there are backbones made to withstand the blows that make you move forward and not give up no matter how many problems you face.
The result of all this is "Criminal look". 4 really good Rockabilly pills of the 21st century, but with that vintage taste of leather jackets, studs, patches and toe boots…".
Ric Arlandi has signed for the exquisite Finnish label MOONDOG and we would like to announce that a few days ago, El Dandy Records, with the permission of the record company, has released a reissue of the EP CRIMINAL LOOK, in CD format, which includes the remake of the fabulous HERE I AM , with a perfect remastering by Victor "Elmore" Sanchez and the devilish graphic art of MARCEL BONTEMPI between its covers.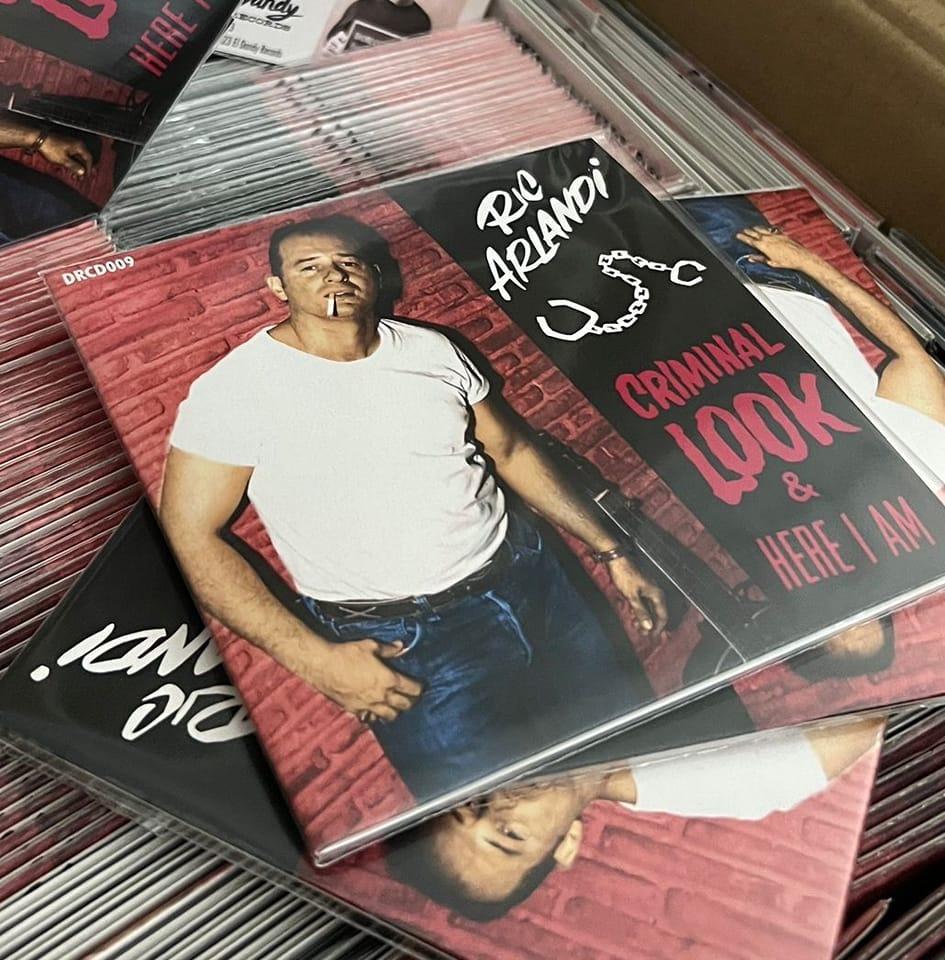 By the way, the cover of this album also represents a tribute… at the end of the interview Ric reveals it…
Hello Angel, first of all, I would like to thank you for agreeing to do the interview.
– It's a pleasure.
Angel, can you tell us something about yourself (city where you live, hobbies, future projects)?
– I'm from Malaga by the four coasts, although I've been living in towns in the province for many years. As for hobbies, I have the basics, I like DIY, sports, weapons, action movies and romantic comedies, playing with my daughter until one of us falls to pieces or starves to death. All of these are activities that, fortunately, are perfectly complementary to my day-to-day life.
In hobbies I didn't want to include music, as my projects go beyond a simple hobby, I consider it, moreover, a complementary and necessary profession, in which I unload my most intimate aspect.
Could you tell us about your latest project?
– It's a nice coincidence that this interview is about Stray Cats, referring to my latest work. Ric Arlandi "CRIMINAL LOOK" is the most immediate, an EP I had the honour to record for SKINNY RECORDS. Let me tell you that this vinyl comes loaded with "Cat Class and Cat Style" and coincided with the Massapequa band's 40th anniversary release. Obviously it doesn't sound like Stray Cats, my style has always been 50's Rockabilly, but I feel that there is a certain link in the cover and the lyrics of the songs, recalling that increasingly forgotten Greaser gangsta vein that we lived so intensely as kids and that was so present in their first records.
The other thing I'm immersed in and I love is THE PRAIRIE SINNERS, a Rockabilly combo without drums and double bass where Alba Anaya sings and I play lead guitar and backing vocals with Tonino Mcfly, who besides accompanying me in my personal project with Ric Arlandi, here he is also on double bass. What we do we like to call Tennessee Rock And Roll and I think it's a pretty energetic and attractive project with great projection.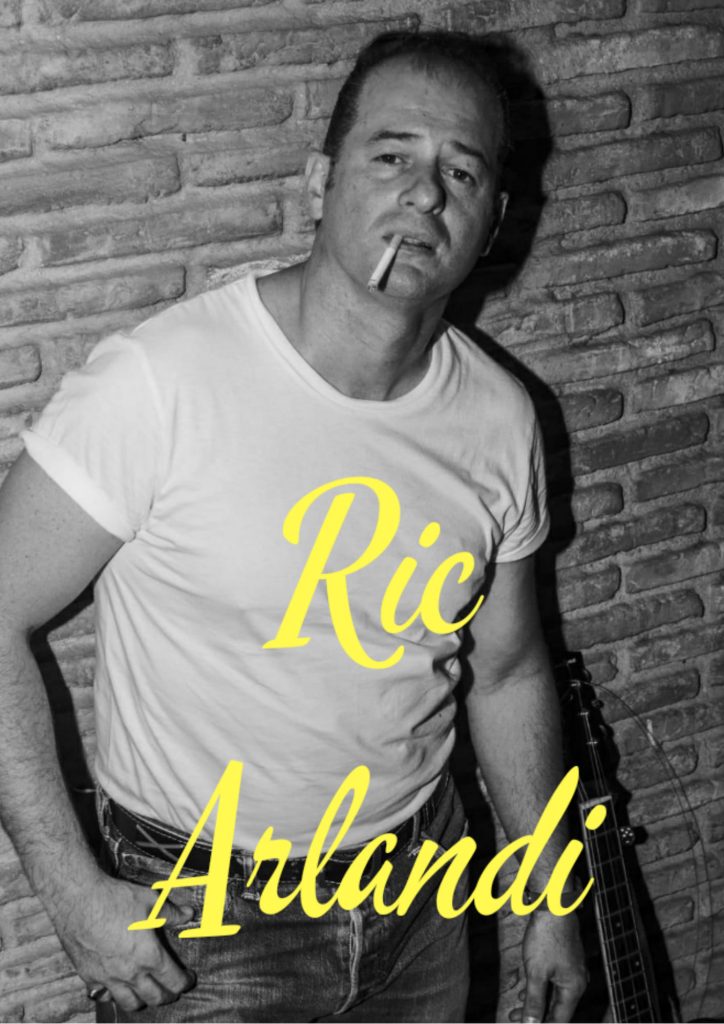 How and when did you discover the music of STRAY CATS?
– Shortly after immersing myself in the world of Rockabilly when I was 14 years old, a Rocker from school who had just arrived from Barcelona gave me Blast Off and Rant and Rave on cassette, we are talking about 1990 or 91? I don't remember, but I still keep in my memory all the sounds, images, shadows, lights, sensations, even smells and colours of that afternoon in which my head exploded and I was trapped in their songs and in those amazing looks they had. Fuck! That went beyond what appeared in the few films, photos or records that fell into my hands. I was a kid and I wanted to dress like a 50's delinquent, not like the rest of the delinquents in my neighbourhood. What was wrong with those three guys? Why were they playing so nervously? Stray Cats dazzled me and I'm still wonderfully blinded by them.
What is your favorite Stray Cats album? And the least? and tell us why
– Ugh! very complicated… I couldn't tell you, maybe Gonna Ball or Blast Off, or Rant n´Rave, or Stray Cats. I will try to synthesize as much as possible by talking only about Gonna Ball; Gonnal Ball is a bomb wherever you look at it, it's rhythmic, it's classy, ​​it's wild to say the least, it's diverse and not boring, and it has a well-hurried and balanced sound that doesn't sound Neo-Rockabilly but neither due to its configuration It must sound like the 50's, they get the ideal mix. Rant n´Rave, in addition to the above, has some brutal songs. And Blast Off is the interpretation of how to be a dangerous street slacker in a musical version perfectly understood in sonorous terms by the protagonist of the cover of "Closer to the Flame".
I wouldn't say the following if I didn't consider myself a true fan of the Cats, but here goes.
The one that I like the least is perhaps this last "40", which is there fighting against "Original Cool", Basically I understand that they are discs without passion. "40" is a rehash that sounds as empty as Original Cool, with the aggravating factor that it's not in the style of Stray Cats, but rather Brian Setzer accompanied by two other musicians. there are massive restructurings of themes that are more than evident. The production could have been much more elaborate, they could have tried to give the songs the body they needed and with that, have separated something from Original Cool, but if they could, they haven't, and it has saddened me a lot. At least it seems that there will continue to be more direct shows together.
In many articles and interviews carried out with the band, the same thing is almost always told, especially their arrival in London, without any kind of reference and the hardships they went through, however, the part about contacts is not entirely correct. What do you think Did they win with that image / strategy that they wanted to promote from the "orphaned" or "misguided" boys of rockabilly?
– Well, the 70's were a quite convulsive time, full of urban symbology, the struggles for the rights of various social structures continued, violence was part of the habitual language among young people, they strengthened their status as a social and economic entity in the market, and the market were focused according to their "tribe". The innate feeling of belonging to a group was the basis of survival in the streets and that was defended with blood from Friday to Sunday and when leaving the institutes and billiards. It didn't matter what social stratum you belonged to, if you wanted to be someone or if you were simply looking for protection, you had to be something, Punk, Heavy, Rocker, from the New Castle United Football Club, or from the flamenco group "El Sombrero".
Stray Cats knew how to develop as a product, and if they wanted to reach those "misguided" masses who consumed records to give light and meaning to their dark and conflictive lives as lost adolescents, that was the image they had to give. Who would believe a guy who tells you "he looked at me once, he looked at me twice. Look at me again and there's gonna be fight!", being a posh man disguised by a multinational? Whether the story was true or not, they hit the nail on the head.
Tell me about their debut album.
– Another head buster. It is a good staging and a great declaration of intent. Let's say that the entire Stray cats discography has had the eclecticism of this album as a reference and has developed in its different facets.
The eighties were fertile ground for genres like rockabilly or ska to reach the general public, but do you think what other group or groups could have won the rockabilly crown, and kept it at the top for so long?
– I think there were impressive Rock and Roll and Rockabilly groups at that time and that more than one could have broken their faces for the crown with the Cats. But Stray Cats weren't just some Rockabillies who put Rockabilly on the charts, they also knew how to enter and stay in the world elite of already consolidated musicians from both Country and Rock as well as from the pop hits of the time and that helps a lot to stay up to date. float. The success of the Stray Cats not only lies in the diversity of their Rock And Roll and Brian's mastery of the guitar, an essential part of having managed to be at the top is due to the management of their status.
Joe Strummer, Carl Perkins, Everly Brothers, James Burton, Sleepy Labeef… rock and roll greats closed ranks around his music, first in Europe and then throughout the world. What do you think Angel is due to?
– Until "Let's Go Faster" (ignoring "Rock Therapy" due to the circumstances of that album), Stray Cats had managed to make Rockabilly and Rock and Roll by adding a twist of their personalities to their music, without adding sounds or styles, neither inventions, nor melodies, nor scales, nor stories different from what was done in the 50's. As much as you want to criticize the "cat" style, it's still a 50's Rock And Roll with a particular refreshment and personality. Closing ranks around it is almost an obligation, especially when Stray Cats were at that time the greatest defenders and exponents of the music of their defendants. Keep in mind that Stray Cats was not just a band whose objective was to sell records to Rockers, they included everything they could, whether they were connoisseurs of James Burton, fans of The Beatles or Van Halen or anyone who liked good music. music or simply would like to pose. What Carl Perkins said meant more to them than a small group of buyers.
If you look back, what does STRAY CATS represent in rock and roll history?
– Well, I don't have that much knowledge about something like that, and if I did, I could only explain it as a humble personal opinion.
I suppose that seeing Stray Cats appear in my high school books was a source of pride and a confirmation that my music, the one that Stray Cats represented, was important, beyond any fetish or freakishness. Stray Cats was a very serious thing that appeared in the books and they carried the Rockabilly flag through the highest positions on the world charts when everyone already considered it forgotten. And not only music, but as an "urban tribe" and attitude towards life in front of the foreign public.
A Stray Cats theme to have fun? Another when you feel sad? And one to version?
– I confess that it is the one that has cost me the most to answer.
Have fun: How Long You Wanna Live, Anyway
Feeling sad: Lookin' Better Every Beer
Covering: Two Of a Kind. Although How Long… got to play it, Two Of… was the one I had in my repertoire for the longest time in a trio format without drums with "Hip Shakin' Trio".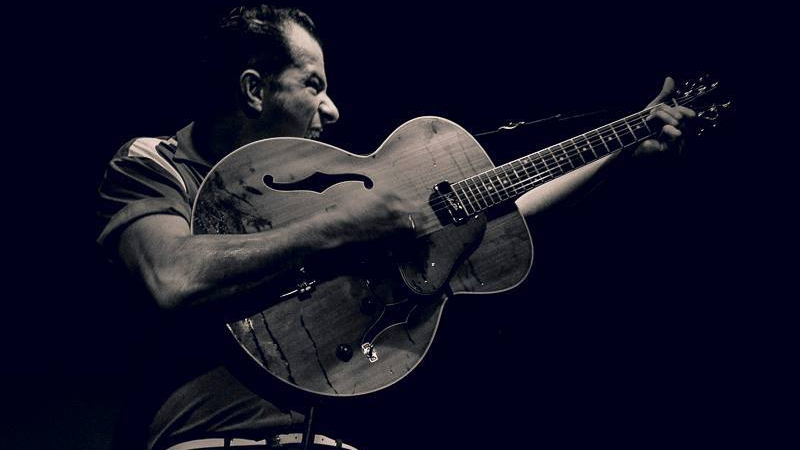 What do you think of the inclusion of Tommy Byrnes in the band as an additional guitarist in 1984? What were they trying to achieve?
– I think the band was looking for more public and another musical opening, to develop in another direction within "American" music, not to stagnate. Listening to "Live Nude Guitar" makes me think that the decision was unilateral. Tommy was a great choice if that was what they wanted, and both the few recordings together and Brian's solo albums prove it. When a band has a turn like that, something is going to happen and it did. However, I think that the separation of the band was perfect to consolidate the legend, and its subsequent confirmation as the great beast of Rock and Roll with its comeback with Blast Off.
Why did they release a new album at this point, wasn't the usual tour enough?
– I think it was time for them to do something together, living only from concerts could make their fans angry. What kind of band is that that doesn't release records? They will have something in mind, maybe they want to prove something, they might as well retire together.
I don't know if you could see them live on their last tour, if so, what did you think?
– With great regret I have not had the availability or priority to do so.
Thank you very much for your time Angel, if you want to add something this is the moment.
– Just to thank you for your interest in me, and your impressive work with "La Huella Del Gato", something that someone needed to do.
By the way, I don't know if I told you, but the cover of my last album has the colors of a couple of Cats records… It's done as my little tribute. The yellow, red and attitude of the Rant and Rave and the negroid background of Gonna Ball… Nobody pays attention to it, I have never published it either, not for anything special, if it were made public I wouldn't mind either, but I know that you will I would like to know.